A bathroom is literally incomplete without a beautiful mirror. However, you would not wish to get that old, mundane mirror after a beautiful bathroom remodelling job. Would you?
So when it comes to bathroom mirrors, you have to choose some latest styles so that your bathroom could have that plush appearance. Here are some of the trendiest products in this aspect which can definitely make your bathroom stand out:
Latest Trends in Bathroom Mirrors in 2023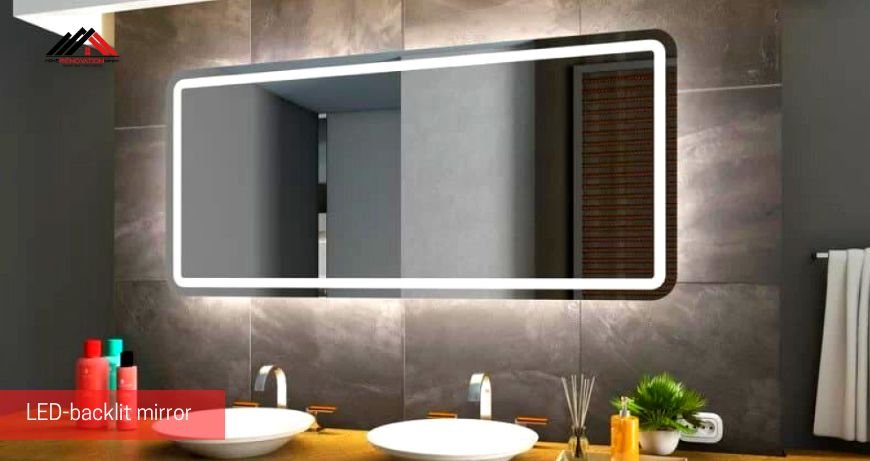 LED Bathroom Mirror
Not just it offers you a crisp appearance, but it serves some functions as well. LED-lit bathroom mirrors are one of the latest trends that come with LED light at the back and this offers better functionality while you are using makeup, washing your face or shaving,
When you use an LED-backlit mirror, you would not notice any shadows being cast. Besides, it ensures optimum and focused brightness so that you can get ready without missing a spot.
Multiple Mirrors in the Bathroom
Two is better than one; isn't it? Well, when it comes to bathroom mirrors, this is one of the latest trends. Especially if you have a double bathroom vanity sink, two mirrors on the wall would enhance the functionality and also offer a better appearance.
You can have double LED backlit mirrors as well. However, you need to ensure that the mirrors are absolutely similar in size and hung with absolute measurement. You can choose any shape in the aspect, but round mirrors are highly preferred by homeowners during the bathroom renovation job.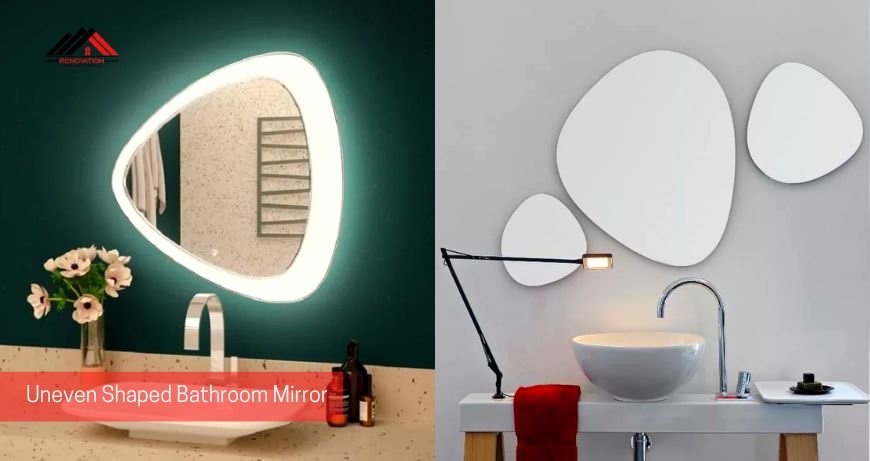 Uneven Shaped Bathroom Mirror
Isn't it obvious that anyone entering the bathroom would look into the mirror? Well, that's more of a custom. However, unless you have something unusual, people hardly notice the shape of the mirror. So do you wish people to look at the bathroom mirror instead of just looking into it? Uneven or irregular shapes in terms of bathroom mirrors can help.
Yeah, this means your bathroom mirror would not be circular or square or rectangular or oval. It can be shaped like an amoeba and could be something very different. However, it would serve the dual purpose of attracting attention and offering attractive looks.
Circular Bathroom Mirror
A circular or round bathroom mirror is also one of the latest trends and looks really elegant in every kind of bathroom. It can be framed or frameless and guarantees a great appearance. Besides, you can obtain LED-lit round mirrors as well and these could light up your bathroom like no other.
But before you get it, you need to know that a round mirror in a similar shape as a rectangular mirror could be twice as costly.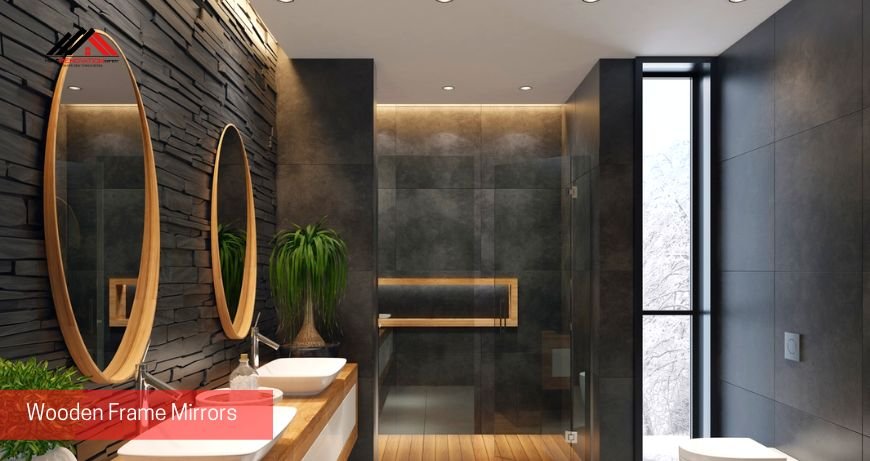 Wooden Frame Mirrors
If you want a rustic and classic appearance in your bathroom, mirrors with a wooden frame would suit your bathroom the best. These are easy to install and suit almost all colours on the bathroom walls.
Besides, if you have wooden cabinets or bathroom vanity, the mirror frames would complement these elements of the bathroom as well. Homeowners normally go for lightwood to form a frame for the bathroom mirror. However, you can get any convenient frame to get the desired outcomes.
Rounded Edge Mirrors
Mirrors with rounded edges are quite common, right? Yeah, they are still one of the trends in the bathroom and, looks like, they will stay in the trend in the upcoming period of time.
You can go for rectangular mirrors with rounded edges and these could be framed or frameless. But since these are the simpler options, homeowners do not prefer rounded edge mirrors with LED backlighting.
Framed Bathroom Mirrors
Bathroom mirrors with frames around them are still in trend and these are mostly inspired by Japandi and Scandinavian designs. Framed bathroom mirrors bring a minimalist touch element to modern spaces. They are simple in their appearance but deliver a great touch to your bathroom and you can get framed bathroom mirrors in metallic shades or matte finish for the best appearance.
Final Words
These are some of the major trends in terms of bathroom mirrors and while you are about to get your bathroom renovated, you can pick any of these in your new space. But make sure you get the most accurate sizes, apart from the shapes. This is because while too big mirrors may not suit your space despite being costly, smaller mirrors may not be able to serve the functions too well.
So it's important to consult a good bathroom renovation contractor in your region for the best assistance. For instance, if you are looking to get a bathroom renovation in Melbourne, you can contact Home Renovation Expert for all the assistance you need. Let the experts handle your bathroom remodelling so that you can get the finest outcomes in a pocket-friendly manner.