Are you looking for new kitchen cabinets while your Kitchen Renovation project is going on? You must know that apart from the design and the kitchen looks of the cabinets, it is essential to choose the better material for the cabinet. The material of the cabinet determines the durability of your kitchen and delivers an efficient working space for cooking; hence it is an essential factor to consider.
So, we have given you a list of popular kitchen cabinet materials and their features that you can use for making cabinets. Find out which one fits your needs and space.
Plywood
The best option for your kitchen cabinets is plywood especially if you want to have custom cabinets. The price of the cabinets varies as their quality varies. The durability also varies with the quality of the plywood. For constructing flat slab or panel doors plywood is the material of choice.
Plywood makes one of the most durable cabinets that are quite resistant to temperature and moisture in the air. They withstand heavy weights of cans and utensils. You can fit screws in the plywood efficiently and also paint them effortlessly. Furthermore, you can also repair plywood cabinets easily. However, if you get thin and low-quality plywood that can break very easily.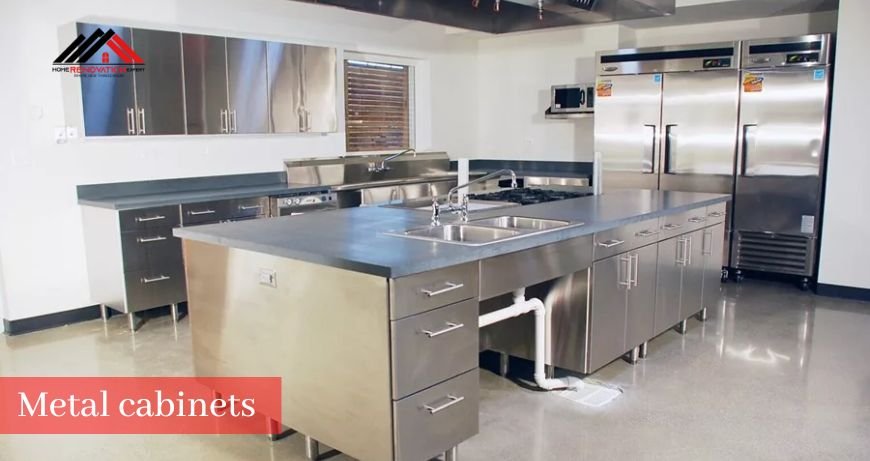 Metal cabinets
You might usually find metal cabinets in commercial and public kitchens. But nowadays to give a modern kitchen look people are using metal kitchen cabinets at home. In metal, you can either use Stainless Steel or shiny steel material. You can get the painted metal cabinets also for a better look.
Stainless steel cabinets are comparatively easy to clean. Tough stains like red wine as well as coffee stains can be easily removed from the metal cabinets. These cabinets are resistant to water as well as temperature changes and last for years to come. The only disadvantage of using Stainless steel cabinet is that it is hard to repair.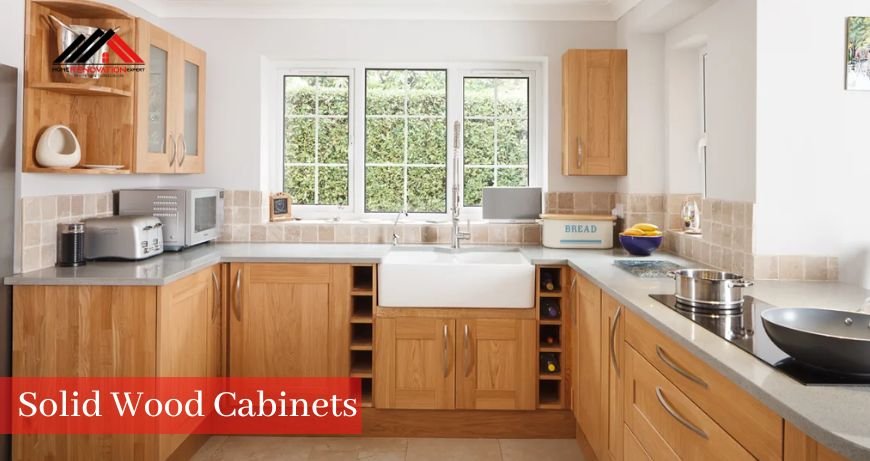 Solid Wood Cabinets
Solid wood cabinets give the most gorgeous cabinets but are very expensive. The natural grain and finish of the wood make the cabinets look more beautiful. One can use Maple, cherry or oak wood for making cabinets. Wood cabinets are strong and very durable. But their tough nature makes it hard to give them the desired shape. Working and installing solid wood cabinets is quite costly. But the looks of the cabinets that come from solid wood are worth the price.
MDF
MDF (multi-density fiberboard) is an easy-to-use lightweight and less expensive material for making kitchen cabinets. Factories make MDF using the residues of hardwood and softwood. It is pocket friendly and you can get numerous MDF ready-made options available in the market. You can also create custom MDF cabinets for imparting your kitchen a unique look.
MDF is solid and water resistant and thus prevents your cabinets from getting warped. It also has a smooth surface that is easy to apply laminates and veneer. However, even though MDF has many benefits, its biggest disadvantage is that it has less strength and can't last for longer periods.
Textured Melamine cabinets
Some people also refer to these materials as thermally fused laminates. They are popularly known for being resistant to moisture, heat, and stains. These are the laminates that are applied to the different types of wood cabinets. They impart more resistance to the cabinets than the paints. They are very stylish and colourful which makes them the better choice for the classy and chic appearance of the kitchen.
Manufacturers make Melamine boards using the raw particle board substrate and resin. They attach the decorative paper to both sides of particle boards and this is how the melamine cabinets are ready. This resin infusion makes Melamine tough and as a result, it doesn't delaminate like other laminations.
Conclusion
Plywood, Solid Wood, Metals, textured Melamine and MDF, and particle board are some of the popular materials used for making kitchen cabinets. Now that you know the features of each of them you can choose the one that suits your kitchen. Furthermore, the material of the cabinets might also depend on what you are expecting from Kitchen Remodelling.