A vanity is an important element in a bathroom and homeowners take special consideration when choosing a new bathroom vanity during their bathroom renovation. But while there are some standard sizes available for vanities, they may not fit your bathroom too well.
This is why it is important to assess the space in your bathroom. And go for a bathroom vanity that fits well, looks well and functions well. Here is a detailed guide on the most common bathroom vanity sizes. You can keep this handy when you are about to go for a bathroom remodelling.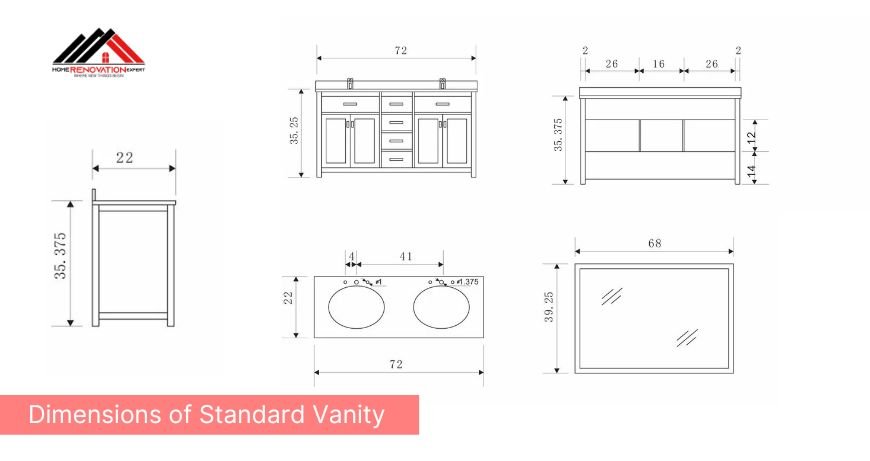 Dimensions of Standard Vanity
Just as bathrooms differ in shapes, sizes, designs and aesthetics, even bathroom vanities differ immensely. However, for the convenience of the homeowners, the designers have set a standard dimension. And you can follow it when you choose a bathroom vanity.
The size of standard bathroom vanities differs between 18 inches and 72 inches in terms of width. If you are going for a single vanity, this could be available in standard sizes which are 24 inches, 30 inches, 36 inches, and 48 inches.
However, if you are looking for double bathroom vanities, you can choose from products which can have a width of 48 inches, 60 inches and 72 inches and these are the most popular ones in the market.
Talking about the standard depth of the vanity, it is normally around 20 inches in size. But you can opt for options which are even narrower. The height of the vanities varies between 30 inches and 36 inches. However, it is normally kept at 32 inches by homeowners.
So normally, these are dimensions taken for the standard bathroom vanities when people look to get their bathroom renovated.
However, if you are taller than normal people, you would definitely find trouble using these vanities. And this is why the experts in designing bathroom vanities have arrived with the idea of comfort vanities as well.
Comfort vanities, also known as comfort height vanities, are meant for tall people. And these tend to be slightly taller than the standard vanities.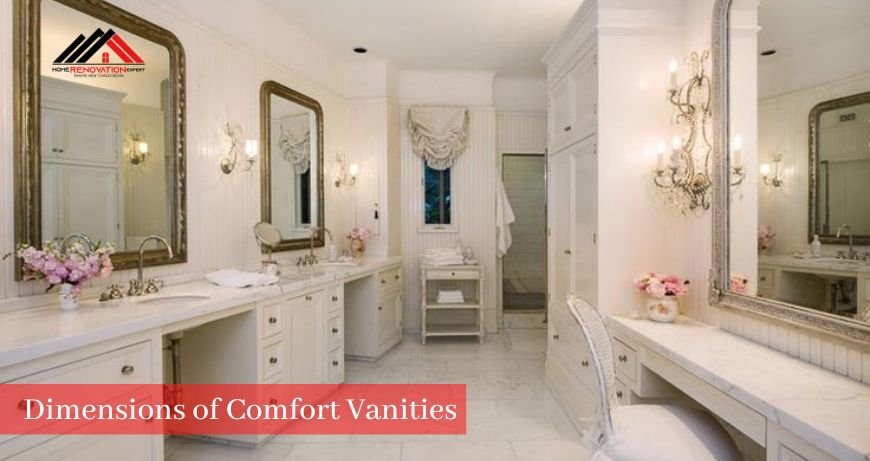 Dimensions of Comfort Vanities
Comfort vanities are normally taller than standard vanities and could be around 36 inches in height. In fact, if you are taller, you can customize the height according to you. However, these are definitely not meant for children.
Talking about the depth of the comfort vanities, these are around 20-22 inches and are almost similar to standard vanities. However, you can get an even slimmer vanity if your bathroom cannot accommodate a deeper one.
Even the width of the comfort vanities is similar to standard vanities. These range between 24 inches and 72 inches in terms of width.
So if you are a tall person, you can always go for comfort vanities that are slightly taller than the standard ones. However, you need to make sure that these are accessible to the children in your home.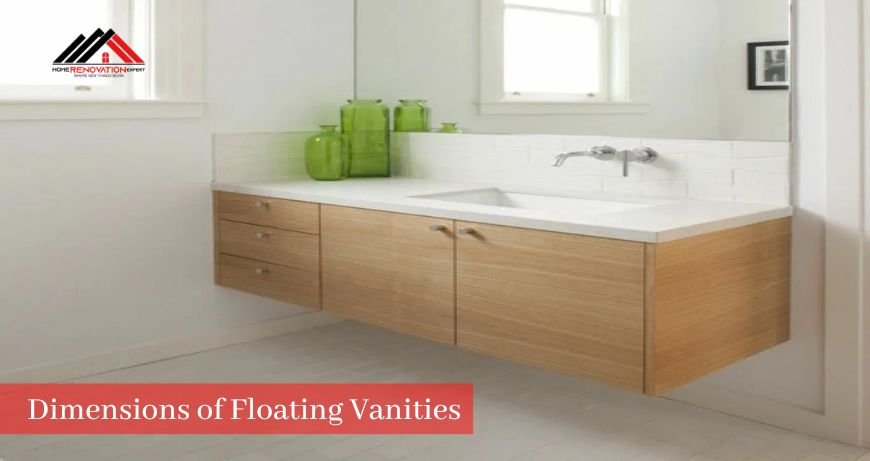 Dimensions of Floating Vanities
You can mount the floating vanities on walls, instead of placing them on the floor. They offer a great look to the bathroom. And while choosing the dimensions of the floating vanities during a bathroom remodelling, homeowners have the freedom to pick the height according to their needs.
You can mount them at any height above the ground according to your needs. So even if you have a vanity that is small in terms of height, you can keep the height to around 36 inches from the top of the counter by mounting it higher from the ground.
Similarly, the depth of the floating vanities varies between 18-21 inches and this is similar to standard and comfort vanities. In fact, even the width of the floating vanity varies between 24 inches and 72 inches, like the above examples.
These are the most common types of bathroom vanities available in terms of the size of the installation of the product. You need to contact your bathroom renovation serviceman to get a better idea about the major size of the vanities available.
Custom Vanities
While most homeowners go with standard sizes, as aforementioned, your bathroom might need something special. So while you measure the depth, width and height of your bathroom vanities and they do not comply with the standard sizes, you can get them custom-made according to the requirements.
For instance, if you want bathroom vanities with more height than the standard ones or you wish to customise the width of the vanities according to your bathroom space, you can always tell your requirements to an expert bathroom remodelling contractor and get all that you need.
For instance, if you wish to get a better idea about the size of bathroom vanities or get expert bathroom renovation in Melbourne, you can contact Home Renovation Expert, which is one of the most popular home renovation services in the region. Contact the experts to get a better home experience in a hassle-free manner.