Are you planning for kitchen renovation this festive season? But are you confused about which material to use to construct your kitchen cabinets and drawers? To solve your confusion, we have brought this article to educate you about plywood, particle board and MDF. Acknowledge their pros and cons in the article below and decide which material is better for your kitchen.
Plywood
It is the type of wood used in construction that constructors make by binding and pressing thin sheets of wood. They convert it to a solid material that one can use for tough and durable kitchen cabinets. The kitchen cabinets made up of plywood are heavy-duty and can easily sustain the heavy weight of your utensils.
Pros
It is solid and very less sensitive to damage.
Manufacturers use High-quality adhesives to bind the plywood and thus provide high durability.
The cross grain pattern of the plywood makes them the better substances to drill and fit the screws and nails.
Plywood doesn't catch moisture easily, especially high-quality plywood such as marine plywood.
It's a versatile wood that you can use for both interiors and exteriors.
It's straightforward to paint or stain Plywood. So if you want a simple painted solution for your kitchen, go for plywood that takes paints very well.
Cons
Plywood is a little more expensive than the other materials; hence it increases your budget for kitchen remodelling.
It isn't easy to cut and mould plywood as it is very tough.
The layers of wood can be easily visible on the edges of the cabinets. You might require painting or covering them with other laminates. Many cabinets in the market already have laminates on the edges, so you don't need to worry much about that.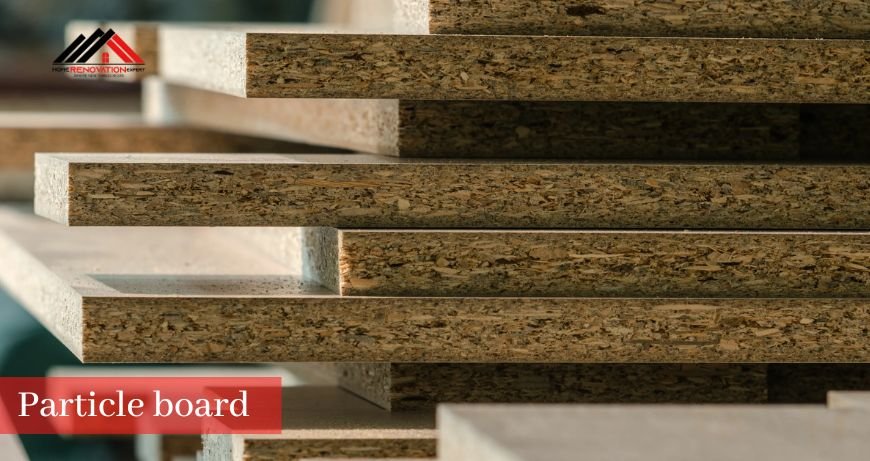 Particle Boards
Particle boards are substances that factories usually make using the particles of wood. The wood sources can be sawdust, scraps, residues, sawmill shavings, etc. All these particles are combined using adhesive resin to make a particle board.
Pros
Particle boards are pretty affordable. If you are low on budget, then this can be your choice.
The cupboard, kitchen cabinets and other storage compartments made from particle boards look neater due to their smooth surface.
As the surface of the particle board is very smooth, you can easily stick laminates over it.
If you get the cabinets of particle boards, you will require less effort and cost of transportation as they are relatively light weighted.
Particle boards provide better insulation. So, If you want to attach wirings, you can easily use it with a particle board.
You can easily find ready-made cabinets made of particle board in the market to free yourself from the stress of compiling the cabinets at your house.
Cons
If you want to drill and fit the nail in the particle board, you can't do it efficiently as they are pretty soft and brittle.
Particle boards aren't resistant to moisture. They can easily get damaged by swelling when exposed to water or moisture in the air.
The materials used in the manufacturing of particle boards include formaldehyde, urea and resin-like materials. So if you are using it for making cabinets, you might want to think about it again.
Particle woods have relatively less strength and thus cannot efficiently handle the heavy loads of your heavy metal utensils.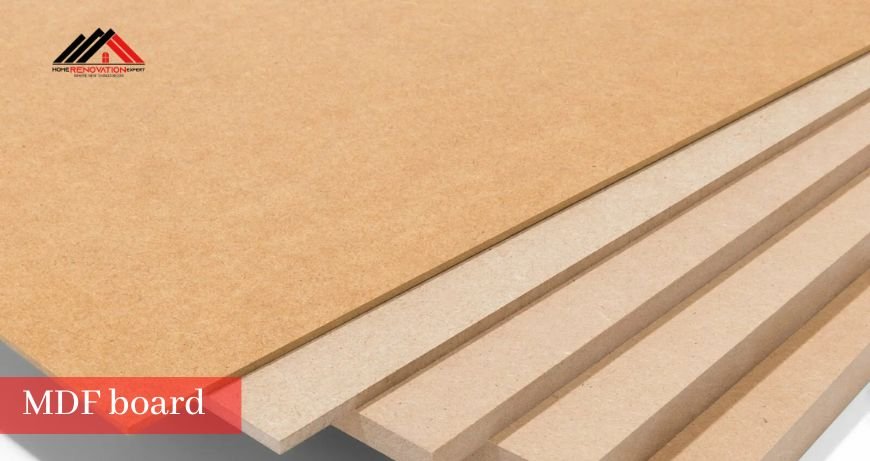 Medium-density Fibre Wood or MDF
MDF is the type of wood that manufacturers make using the residues of hardwood or softwood. For this, they first convert the hardwood and softwood to fine particles. Then they finally combine these fine particles into a solid MDF by using wax and resin. Usually, manufacturers also use High pressure and heat to combine the board better.
Pros
As the surface of the particle board is very smooth, you can easily paint over it.
MDF has a medium strength when compared to plywood and particle board.
MDF is resistant to cracking when exposed to high temperatures or humidity.
You can quickly drill in MDF and also cut it easily. You can get more customization options with MDF, as it is easy to cut.
They are heavy-duty and can carry heavy loads.
Cons
It is cumbersome, so the transportation cost of the cabinets is more.
MDF swells up very quickly if there is no proper sealing of the edges of the cabinets.
MDF can't hold the screws and nails very well, as manufacturers craft them using fine wood particles.
Your cabinets made up of MDF may damage soon if you use them roughly or frequently expose them to water.
So, Who is the Winner?
Among the three different types of woods, each one has its peculiarity; the winner depends on your needs. If you want to construct heavy-duty cabinets and carry them for 20-25 years, then plywood is the best material. If you frequently do Kitchen Renovation and require medium durability, then go for MDF or particle wood.