Christmas is a festival that warms every Aussie heart. As we welcome guests into our homes, we face the challenge of preparing for a Christmas that's unique to the Australian way of life. Our sunny Christmas celebrations are all about embracing the summer heat and turning our homes into festive wonderlands.
If you are the one who loves to cherish the festival, decorate the house beforehand, then start with it right away. Start planning to decorate your homes and prepare them to celebrate the most auspicious events of the year with us.
So, let's dive into the joy of Christmas by exploring beautiful decoration ideas that will make your house as pretty as the joy of the season!
Adopt A Colour Theme
This Christmas, let your creativity run wild by adopting a unique colour theme for your decorations. Leave behind the traditional red and white and choose your favorite color scheme.
From monochromatic palettes to dazzling two-color themes, let your imagination take the lead. Go bold with black and golden accents or opt for the timeless charm of silver paired with pink or royal blue. Let your color theme spread its magic across your wraps, curtains, lights, and more.
Create a Dashing Entry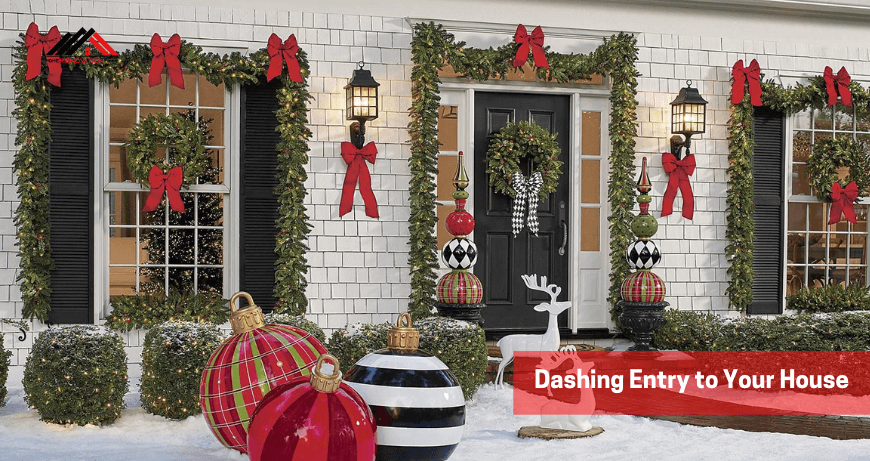 They say the first impression is the last, so why not make your home's entryway shine? Create an inviting and stunning entry by adding shades to your yard. Use pastel colors to create a cozy outdoor seating area with chairs and tables.
Spruce up the space with potted plants, such as Rosemary or eucalyptus shrubs, and symmetrical arrangements on both sides of the yard. Let your guests feel the warmth right from the moment they step foot into your Christmas wonderland.
Add Shades to your yard
If you have a nice yard in front of your house, you can put shade over that patio area. Use some pastel colours for these shades. You can create a nice place with chairs and tables to sit around.
Start with bringing some plants into your entry area. You can get Rosemary or eucalyptus shrubs in your patio area and use symmetrical potted plants on both sides of the yard. This idea is the most trending one among Christmas home decor Australia.
Change the Entry Gate
If you have a reasonable budget this festive season and want to add glam to your front area, then consider changing the entry gate of your house. You can use a wooden door, iron mesh doors, a modern grey gate, a white laser cut gate, a frosted glass gate, an artistic grill gate, a gothic wood gate, etc.
Tree Skirts for Luxurious Charm
Tree skirts are back in vogue, bringing a touch of luxury to your Christmas decorations. Add white, silver, or gold accents to the base of your potted plants, elevating the festive feel of your home. This simple addition will make your decorations look even more glamorous and enchanting.
Personalise Your Christmas Tree
Christmas tree decoration is the most significant part of every Christmas preparation. As you know, the traditional Christmas tree (Pine trees) is not well suited for Australia as the bright shining Sun, and the dry weather makes the pine trees dry out much faster. The best alternative to pine trees is the local trees of Australia. You can get this from local nurseries and plant them in lovely decorated, modern-style pots.
Start with putting the small vintage lights around the plants. These lights can give it a festive decorative look.
Choose the colour theme and apply lights and other decorations in the same colour scheme. This colour en masse looks gorgeous and appealing to the guests.
You can attach some of the artefacts from your travel diaries to the Christmas tree to add a more personal touch.
For a unique look, choose the beach theme and add shells, corals, starfish, and sand to the trees. Moreover, attach the silver and blue colour lights to go with the music.
You can alternatively choose the trending asymmetrical Christmas tree with an organic and natural look.
Spread the Decorations All-Around
Don't limit your decorations to the living room alone. Let the festive spirit flow into every corner of your house. Allocate a small budget for minor renovations, repairing broken fixtures, handles, and shelves.
Replace the cabinet handles with vintage-designed ones, following your chosen color theme. These little touches will transform your home into a pretty and inviting space, perfect for the festive season and beyond.
Kitchen Makeover
Give your kitchen a festive makeover by adding vintage hanging lights, changing countertops, or revamping cabinets. Bring in some fresh greens and place one of your beautifully decorated Christmas trees in the dining area. Attach lights to the tree and the surrounding area, creating a magical ambiance for delightful holiday feasts.
Bathroom Decorations
The bathroom is often ignored while making your house ready for the guests. But if you see, it's the most significant part of the preparations. Adding some glimpses can give it a new look for you and your guests. You can do bathroom decoration also with the same theme. Bring in the new theme bathtub or attach some lighting to the bathtub.
Backyard Renovation
As I speak of the backyard, you often remember the worn-out car in your backyard area. So, why don't you give this backyard a look this Christmas? You can colour your backyard and add shade to cover your backyard area.
You can choose to make it up in a similar manner as your front yard. Wash the old cars and sell out other items placed in the backyard. If the area's flooring is not suitable, go for flooring and add cement flooring, tiles, or a simple green lawn. Keep potted plants on both sides of the site. Bring in some stylish, contemporary chairs and tables to sit on.
Bedroom Decoration
If you have been looking to make some changes to your bedroom, this is the perfect time to do so. Do the necessary repairs to the room. To keep it simple, you can repaint your walls or rearrange the items in your room to give it a new glimpse. Add new lighting, such as mirror lights, etc. Keep some candles also in the area to make the place look more bright.
Gift Wrapping
People often ignore the Gift wrapping part while doing Christmas decorations. But this time, don't miss out on planning the gift-wrapping part. Go with the theme with gift wrapping as well. If you are choosing pastel colour, then go with the same colour theme here also. Fabric bag style is coming up in trends in gift wrapping in Australia.
Other trendy ideas are using 55Washi Tape, Jingle bells, some leaves or miniature Christmas trees, etc. You can always choose to keep the gift wrapping minimal with the traditional red and white handcrafted wrapping papers. To make them more memorable, you can add some notes to the gift or add some of your handmade design printouts to the wrapping.
In case you want to add some shimmer and shine to the wrapping, then you can get excellent quality golden, silver, copper, champagne, or rose gold colour wrapping paper. Tie a simple ribbon over it in a bow format according to your theme. Use the ribbon of your chosen colour for this festive season.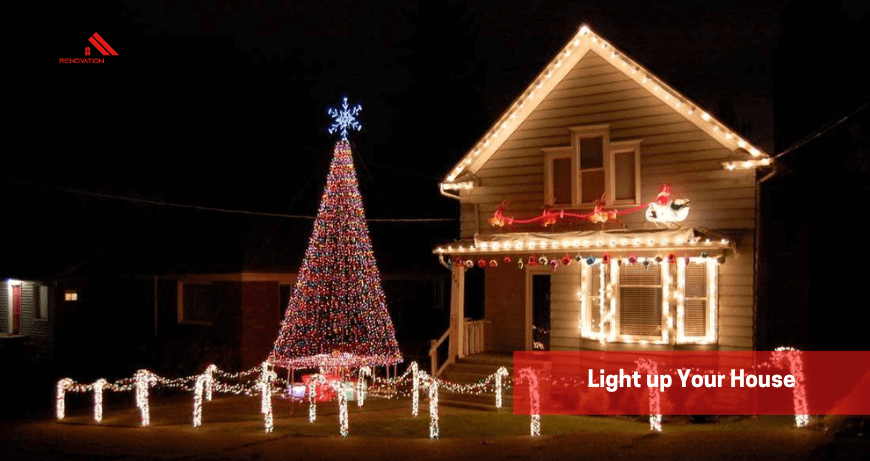 Light up Your House
One of the most straightforward ideas for decorating your space for Christmas is to add more lights to your area. You can add fairy lights wherever you feel like in your house. These fairy lights add sparkle and are also very cost-effective.
Another option for lighting is to use scented candles. These not only add glam to your space but also spread pleasant fragrances all over the area. Use excellent decorative candle stands. You can probably create DIY candle stands of resin to give them a personalised touch.
Moreover, nowadays, outdoor lighting is becoming more and more popular in Australia. You don't need to be more dynamic in adding the lighting to the front area. Just wrap the illumination around the trunk of the trees. This instantly imparts a festive look to your outdoor space.
Create a Beautiful Table Setting
Whether or not you are planning to refurbish your kitchen area this season, you should create a beautiful table setting. Firstly, I would like you to include some greens on your table.
Bring in some of your favourite regional small potted plants on the table. This idea is quite different but unique. Keep some of the personalised name cards and gifts on the table. Add fairy lights or candles on the tablet to glam up the table. Finally, it's the best time to bring out the best tableware, cutlery and napkins on the table.
If you want to add some more glam to your space, then add a statement hanging light or decorative piece on the table. You can make some DIY resin coasters and place them above the table. This idea is unique and modern to give an amazing vibe to the area.
Create Your Decorations
Decorations for your festive season are best when you give them a complete personalised touch. It's all about enjoying and making the place look like you want it to look. So focus on bringing in your artefacts and creativity to decorate your house.
Take Christmas decoration ideas for the home from the above article and mix them up with your personal touch to impart a unique glimpse to your house this Christmas.
Encourage your children to take part with you in the decorations. They enjoy these tasks, and it also makes them creative further in life. You can make wreaths at your home from the garden found nearby for the occasion. Instead of just buying it from the DIY marking with your children, they can also learn something new.
If you are thinking of installing some of the new things in your house, for example, lights, cabinets, or repairing appliances, it's better to leave these tasks to the professionals in the field. They can do these simple tasks with perfection for you.
Final Words
With these stunning Christmas decoration ideas, your Australian home will become a festive paradise. Let your creativity soar, and make this Christmas truly magical. Embrace the summer spirit, personalize your decorations, and create a joyful atmosphere that reflects the unique Australian holiday experience. Start planning and enjoy the excitement of preparing your home for the most wonderful time of the year!