A perfectly lit bathroom is one of the most satisfying things in your home. When you visit your bath, the lighting in the area is not just a utility but a means to enhance your bathroom experience as well and this is why it is important to choose the best bathroom lighting fixture during bathroom remodeling.
Here we have brought for you the most common types of bathroom lights that people generally pick while getting their bathroom renovation jobs. Have a look and pick the best ones for your bathroom as well.
Types of Bathroom Lighting Fixtures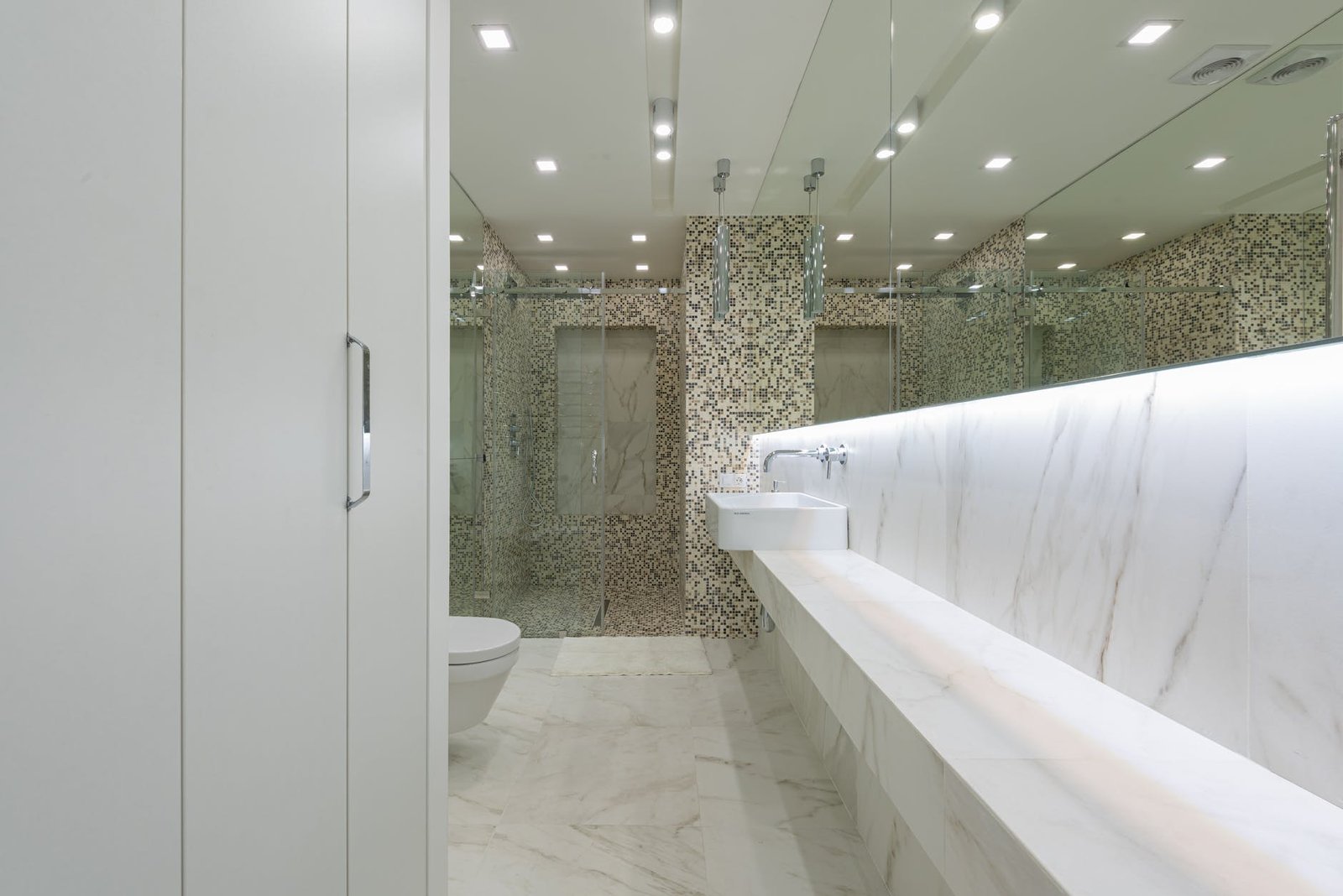 Ceiling Lights
Like your living and dining rooms, the bathrooms too go for ceiling lights. As the name suggests, we can install these lights in the ceiling, in a hollow opening and they appear to emerge from a hole above. Besides, you can also call them as recessed lighting and most probably are a part of false ceilings in the spaces.
People prefer ceilings lights because of their versatility. They hide inside a small space in the ceiling but are capable of illuminating the entire space. The best part is that even if you splash a bit of water on them, they resist any damage because they are tightly sealed.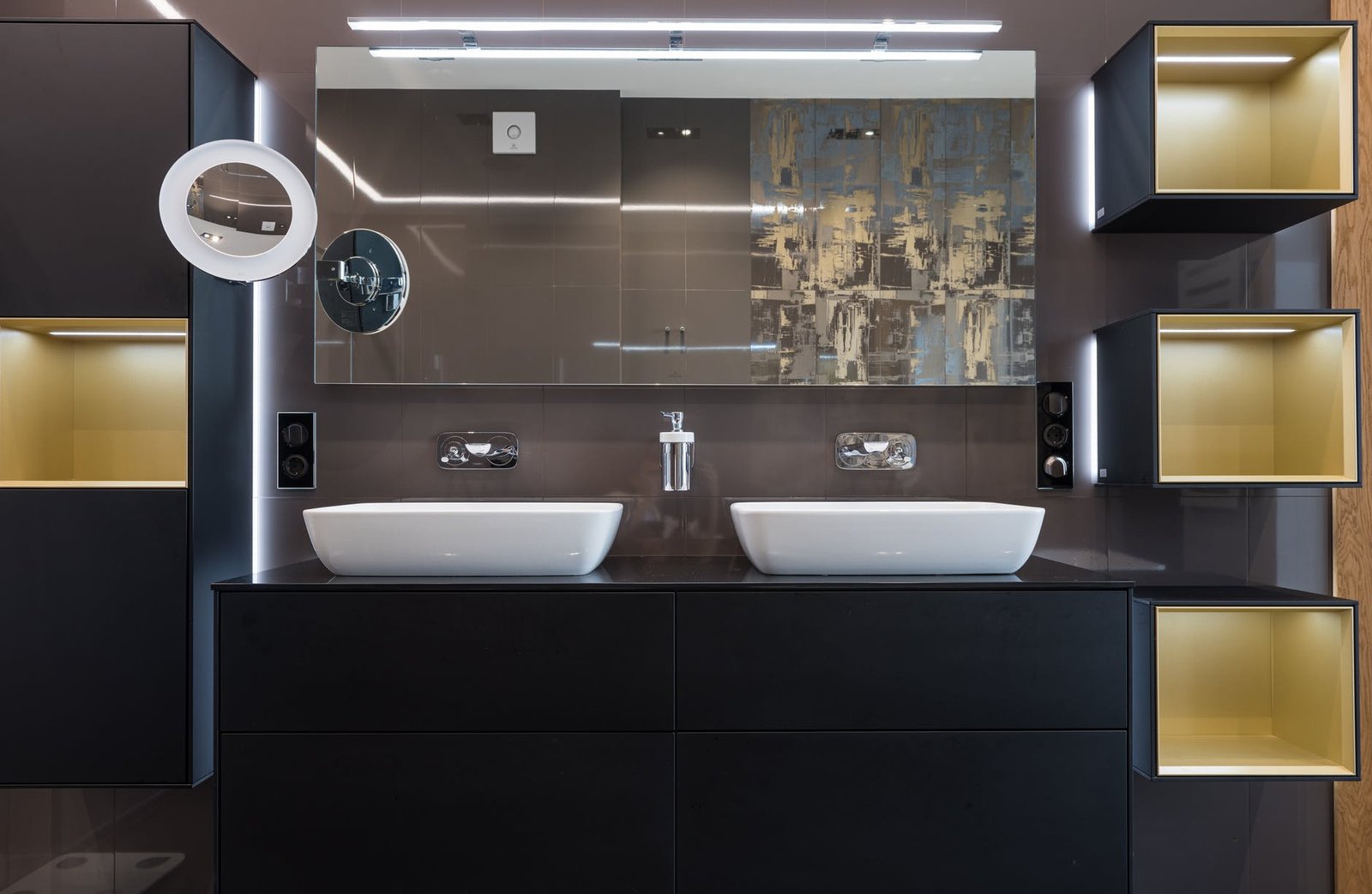 Vanity Lights
Vanity Lights are another very common type of light and can illuminate a certain dressing portion in your bathroom. For instance, when you have a big bathroom design and instead of lighting the entire area with one big light, you wish to illuminate certain portions, this is where vanity lights come in handy.
People place most of these vanity lights near the mirrors and tend to help them in dressing up and putting on makeup etc.
Vanity lights often occur in pairs and sometimes, they tend to be too bright without adequate shading and can lead to issues when you are viewing the mirror. So when you get vanity lights, make sure you pick the right combinations according to the amount of space you have the kind of brightness you want.
Chandelier
We are all familiar with chandeliers, right? Well, these pretty looking objects can enhance the aura of any space in your house and even your bathroom. So if you are looking to offer your bathroom a royal appearance, you can go for a chandelier as well.
While people choose chandeliers out of fashion, it is important to note that chandelier lighting is perfect only for a bathroom with a height of at least 10 feet. And most importantly, the chandeliers should not be too big on the ceiling to hide the beauty of other elements.
You need to pick small chandeliers and choose a design that complements other elements of your space.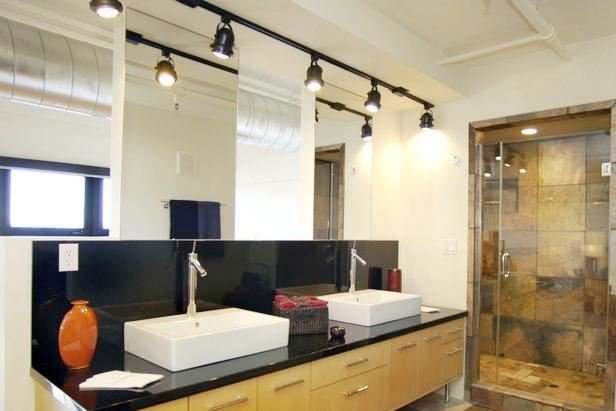 Track Lights
Tracks lights or spot lights, as the name suggests, are a type of bathroom lighting solution. And that find applications in lighting a certain space by tracking the user or a certain spot according to your needs. You can fix the track lights on your ceilings or on the walls and the head of the light will face the user.
The user can twist and turn the head of the light in the desired direction and use them according to the needs. Plus, you can suspend them in the downward direction, and when you need specialized grooming of your hair or your face. You can turn the direction of light towards you, focusing on a certain sport.
You can install these these track lights even after complete bathroom rebuilding. People call them focus lights as well. Because they can be used to focus on a certain spot without even increasing your electric bill too much.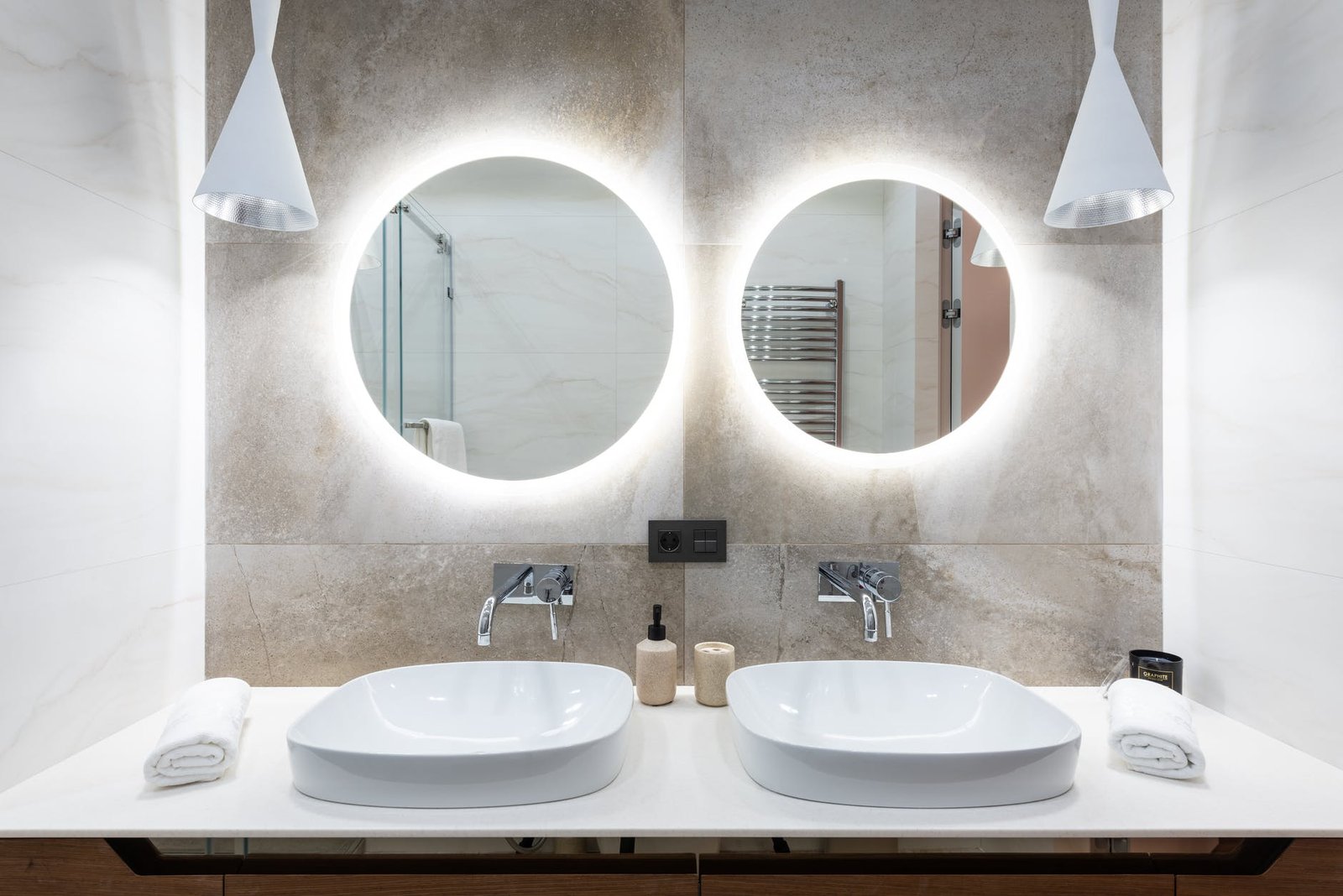 Mirror Lights
Just as the name suggests, mirror lights are the perfect partners to your bathroom mirror. And they not only illuminate the area of your bathroom but also offer an impression of a bigger space. Nowadays, mirror lights are available separately and you can even get mirrors with an inbuilt lighting system for your bathroom
Mirror lights are available in lots of different varieties. For instance, you can get an LED bathroom mirror light that comes with a plastic diffuser. Also, LED five mirror lighting is also something very popular these days.
While remodelling your bathroom, you just need to choose the perfect mirror lights which illuminate the space and can also help you with your grooming needs.
Wall Sconces
Wall scones are lighting fixtures that stay attached to a wall and light up a certain portion of the space. Not just in the bathroom, sconces look pretty wonderful even in your living room and bedroom as well.
Talking about bathroom wall sconces, you can choose them from hordes of available designs. Yes, you can choose sconces from many distinct types of designs. And you can use them for a wonderful impression even when you do not switch them on.
All you need to do is pick a perfect design for your bathroom. And make sure the light it offers is adequate enough to illuminate the area you are using it in.
LED Strips
When your bathroom design needs something really stylish and luxurious, LED strips can serve the purpose for you. These are almost the same thing that you use on your vehicles or during festivals. And you can fix these LED strips in your desired colours to your bathroom wall to offer a beautiful impression.
The purpose of LED strips is to not only illuminate the portion of the house but also offer a really good appearance.
These are some of the most common bathroom lighting fixtures that people demand during renovation jobs of their bathroom and now they are widely available in several kinds.
And if you too are looking for the best bathroom renovations in Melbourne, Home Renovation Expert can assist all your needs. Right from bathroom remodeling to plumbing and lighting fixtures. We are experts in the job and can deliver your dream bathroom at the most affordable costs.
Also Read:
So contact the experts of bathroom designs and get your dream bathroom without any troubles. Call now.