Remodelling your bathroom is a considerable expense, right? While on the one hand, homeowners look to get the best, modern looks in their bathroom, on the other, they would look to save money in every aspect.
So if you are a homeowner stuck between renovating a bathroom and not having enough budget, there's also a middle path.
Now you can use some interesting DIY bathroom update ideas to get a modern look in your bathroom with luxury bathroom designs without even breaking the bank.
Here are some useful tips and tricks on how to save on your bathroom renovation costs by just updating your space in a few elements. Have a look at these:
Best DIY Bathroom Update Ideas
TIP 1: Update the Walls with Fascinating Wallpapers & Paints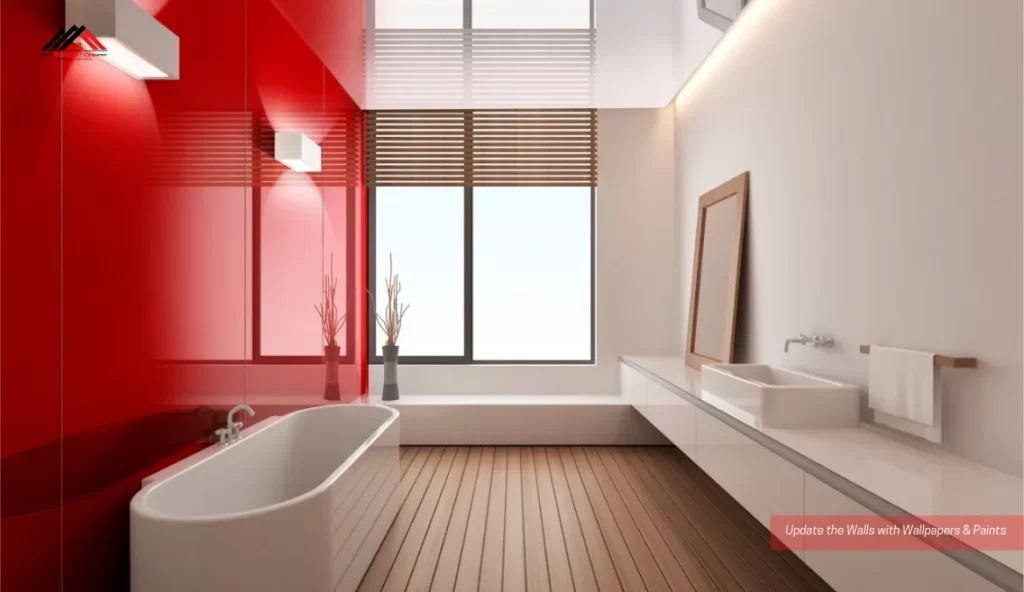 When looking to update the walls of your bathroom, most homeowners try to get a modern touch with the latest designer paintings on the walls that look quite interesting.
But if you wish to DIY, you can simply bring some bright paints and paint the wall according to your needs. You can showcase your creativity by using stencils to create unique designs or graffiti. Besides, you can use some props to create beautiful designs and structures on the walls.
Painting the walls is one of the minimal expenses and yet offers a renewed appearance.
In fact, you can save even more money by bringing the peel-and-stick wallpapers into play. Wallpapers are available in innumerable designs and ideas and can be much easier to apply than paints. Besides, they are even more affordable and consume much less time than paints.
So, in DIY bathroom update projects, you can pick between painting the walls or applying wallpapers according to what appears more feasible.
TIP 2: Update the Old Lighting with Fancier Lights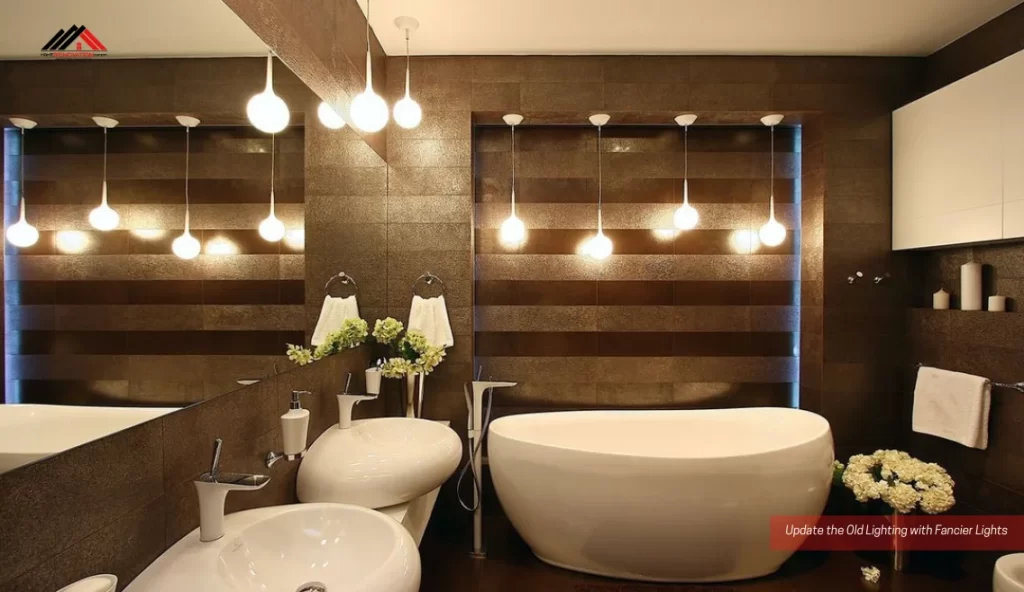 The effect of lights can make or break your bathroom experiences. And these days, bathrooms have mood lighting that uplifts and rejuvenates the mood of the users on a dull day.
However, getting fancy bathroom lighting too could be a costly affair. If you are not prepared for expensive changes, consider updating the existing lighting with more stylish options that fit your budget.
For instance, changing old bulbs with power-saving LEDs will not only help you get a new look, it would also cut down on your electricity costs. Besides, you can install some fancy bulbs and LED lights at some points to get a better appearance in your bathroom.
TIP 3: Update the Replaceable Hardware with Something Trending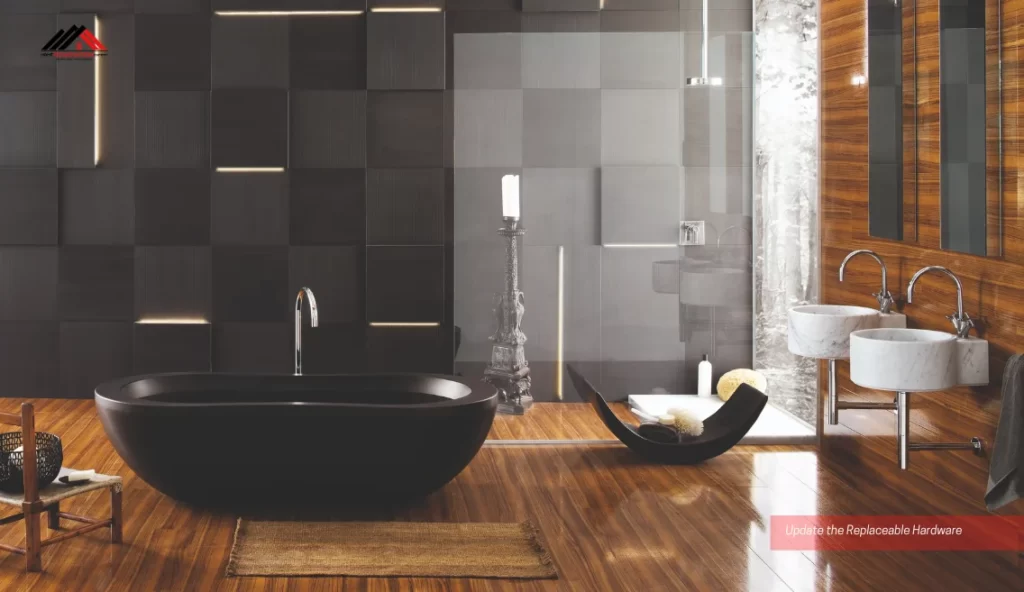 Sometimes, you just need to change a few outer elements to get a new look and this is absolutely applicable in your bathroom.
You can replace rusty and old hardware such as shower heads and door knobs with new and trending ones to get a completely different appearance in your bathroom. Besides, if you have experience, you can change the plumbing faucets and fixtures as well. For this, you can get assistance from a bathroom remodelling expert.
Besides, you can replace products such as shower hooks and rings, towel racks, shower rods, mirrors, toilet paper holders, drawer handles, shower handles, toilet flushing handles, tub stoppers, covers for sinkholes, and other such visible hardware with new and shiny ones to update the appearance of your bathroom.
While metallic hardware is trending and is extremely strong, people go for colourful plastic hardware as well. You can pick these hardware in various colours according to the theme of your bathroom.
So replacing bathroom hardware is one of the bathroom renovation ideas on a low budget and can be done with minimal effort.
TIP 4: Update the Vanity Cabinets by Painting Them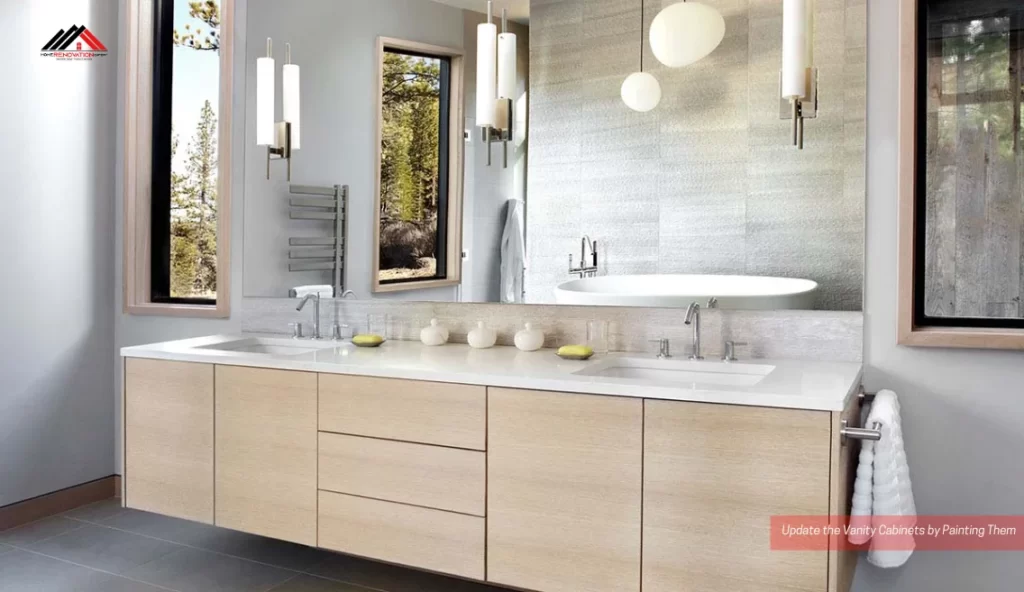 Your bathroom vanity not only serves the storage purpose but also contributes to the overall appearance of the space. And suppose you are updating your bathroom walls, you would need to update the looks of these vanity cabinets as well to match the appearance.
Many homeowners also use wallpapers on cabinets to achieve a cohesive appearance. Whether made up of wood or PVC, you can use any kind of wallpaper on the cabinets to get a great impression.
And if you wish to move a step ahead, you can get some good paints and recolour the appearance of your bathroom cabinets. You just need to make sure not to overdo things and keep the cabinets according to the bathroom renovation trends.
TIP 5: Update the Bathroom Canvas with Something Chic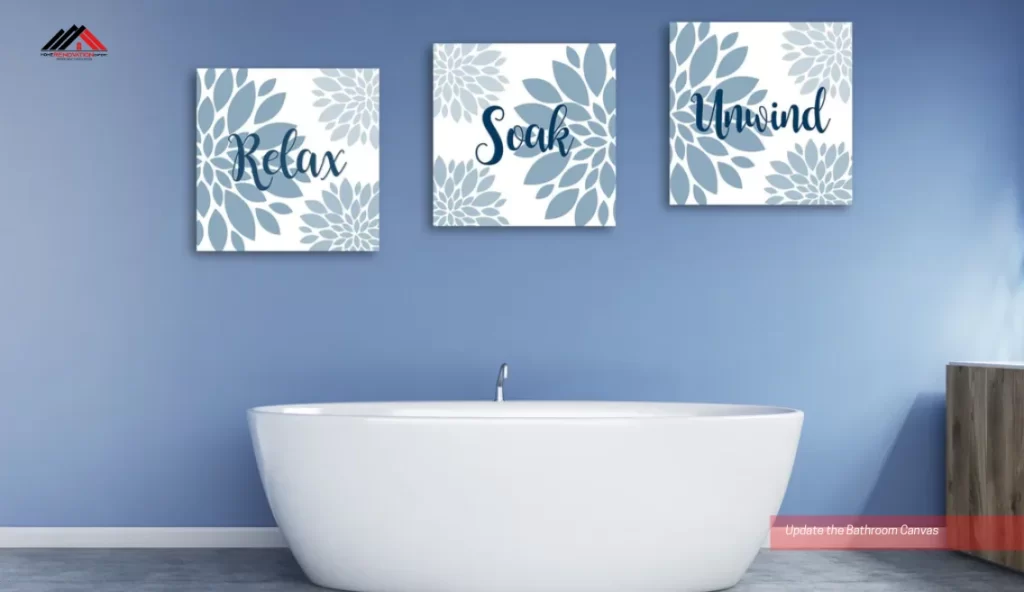 One of the most interesting ideas to change the overall view in your bathroom and still save on your bathroom renovation cost is changing the shower curtain.
Most shower spaces have a curtain and it gets overlooked in most cases. However, you can get a new and fancy shower curtain to get a new look in your bathroom. Plus, if there are some visible towels and other pieces of cloth in your bathroom, you can change them as well for a better appearance.
Besides, if your budget permits, you can change the covers on the floor or change the art on the wall, get some potted plants, or even get a new bathtub in your bathroom to get a better appearance.
These are some of the trending DIY bathroom updating tips, tricks and ideas to get the latest looks in your bathroom without spending a fortune. Whether you have a small bathroom or a huge one, if you do not wish to renovate it yet, but still get a better appearance, you can use the tips above to revamp the space and save a lot of your money.
Talking particularly about bathroom renovation costs in Melbourne, even a small bathroom could take as much as $8000 for remodelling. However, you just need a few hundred dollars to change the accessories in your bathroom and get a newer appearance.
Consult a renovation expert and get ideas on how to update your bathroom tastefully, without even drilling a big hole in your bank account.
Do you too have some interesting DIY small-budget tips to update a bathroom? Make sure you share them with us and the readers.