Did you know that an average kitchen renovation in Australia costs $17,000?
Yeah, and while this depends on the area you reside, it can also depend on several other factors such as materials, designs and labour etc. While modern kitchen renovations in Melbourne may cost you slightly more than the average, the same project may cost you as high as $25,000 for a small kitchen in Sydney.
In fact, a big and lavish kitchen may take an excess of $35,000 to get renovated; this is why you need to be watchful when going forward with kitchen renovation trends. (source)
These days, when people look for kitchen design and ideas in Victoria and other such regions, they tend to be really picky in terms of colours in their kitchen.
While you too can pick any colour scheme for your kitchen during its renovation, it is important to plan things rather carefully. You would definitely see a lot of kitchen renovation layout ideas online and consult a few kitchen renovation contractors as well.
However, it is important to be careful about the colours you choose, making sure they do not go out of trend quickly. Besides, the cost of kitchen renovation is also an important aspect to be kept in mind.
So if you are looking for unique, vibrant and colourful kitchen ideas for your home, here are some interesting tips that will help you get the best outcomes:
Colourful Kitchen Renovation Tips
Go For a Bold Accent Wall or Backsplash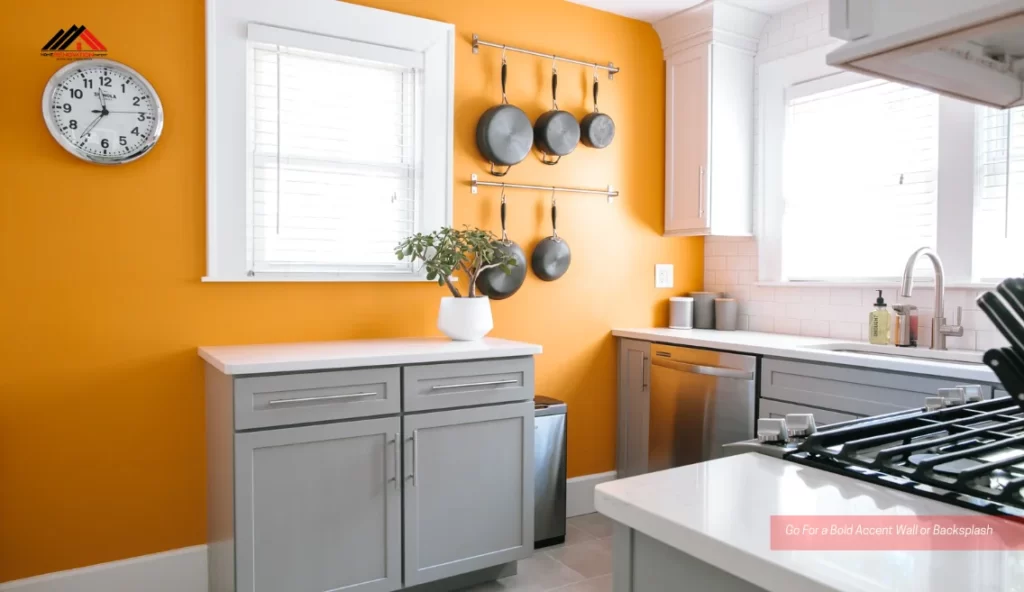 A backsplash is one of the best ways to create a great impression in your kitchen and people usually go for tiles or ceramic walls in terms of backsplash.
Besides, you can also form a bold accent wall in your kitchen, painting it in something rather eye-catching and this can serve as the defining point of your kitchen.
While colourful backsplashes are a common thing in the kitchen, people pick dark shades such as dark blues, avocado, purples, and shades of orange for their accent walls. Pick a colour according to the colour scheme of your home to get a beautiful accent wall for your kitchen.
Pick Colourful Cabinets or Paint the Cabinets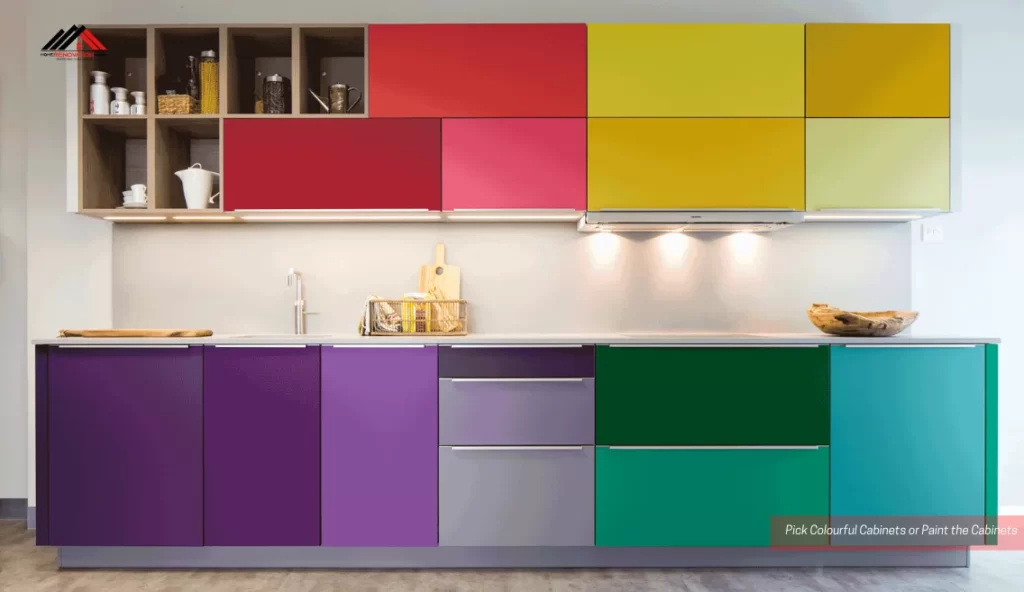 While Kitchen cabinets are one of the most useful things in the space, they can define the appearance of your kitchen as well. Most of the kitchen renovation trends suggest getting colourful cabinets and you can also pick a single colour for all your cabinets, contrasting it with the colours that you pick for the walls etc.
If you are getting new kitchen cabinets, it is quite easy for you to pick the right shades.
However, if you do not wish to change the kitchen cabinets during the renovation, you can get some colourful and shiny enamel paint and paint the cabinets according to your requirements.
Get Multi-Coloured Tiles in Your Kitchen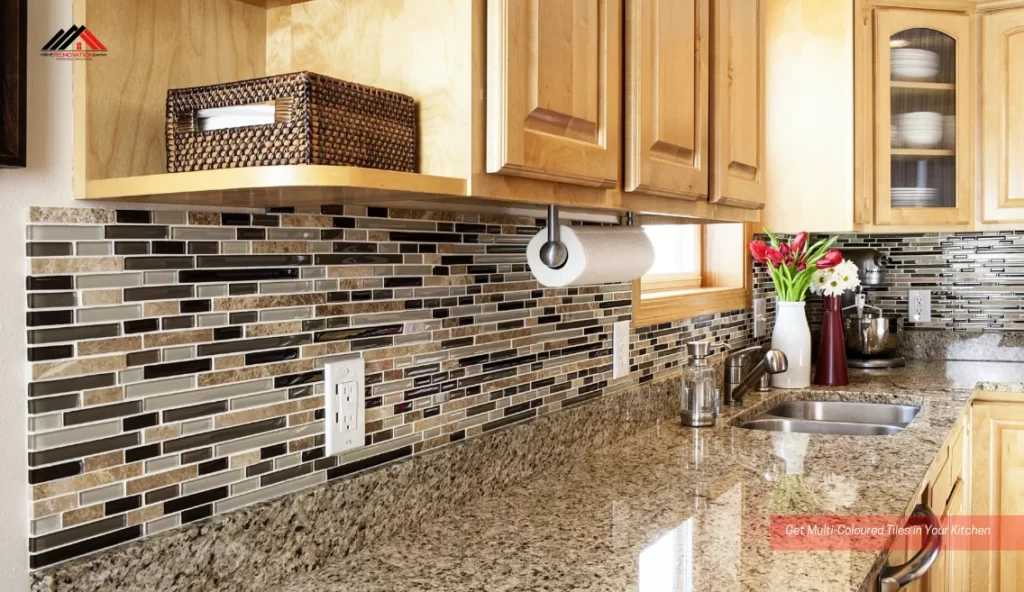 When remodelling your kitchen, getting it tiled at some specific spots is really helpful. This would ensure easy cleaning of the area and less paint applied.
When you pick suitable tiles for your kitchen, it's one of the easiest and most convenient ways to get a colourful kitchen according to your will. In fact, you can pick tiles in more than 2 or 3 shades and get them arranged accordingly to get a wonderful look.
Besides, there are lots of interesting patterned tiles available, which can be picked to offer a refined look to your kitchen.
Go For Colourful Appliances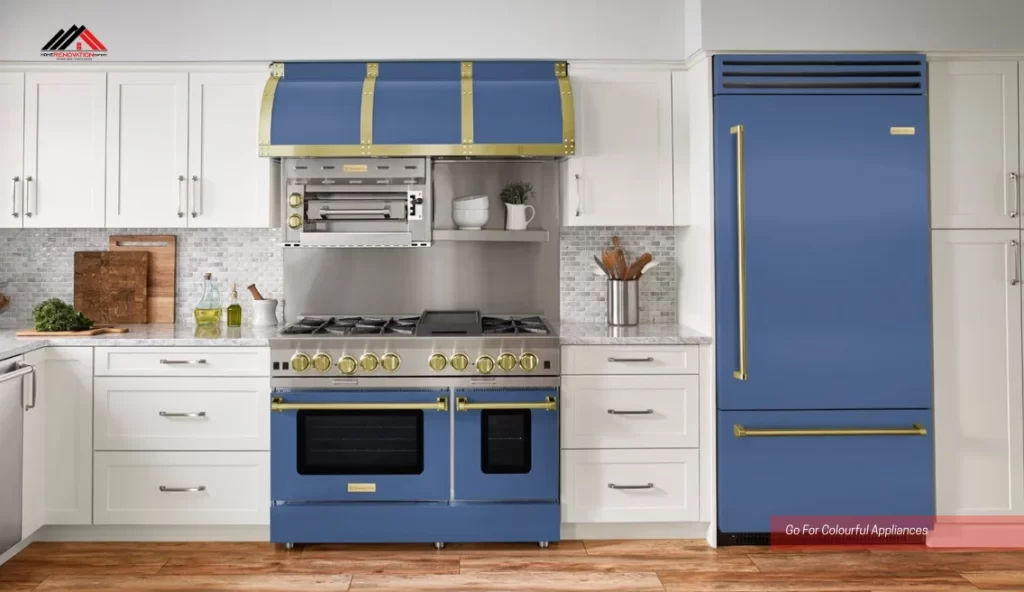 Imagine how your kitchen would appear when you have different appliances in different colours. Yeah, you can definitely implement this idea when getting new appliances for your kitchen, and change the overall appearance of the space.
Your refrigerator, microwave oven, dishwasher, toaster, mixer grinder, and other kitchen appliances can be picked in different colours, based on the kind of look you wish to offer to your kitchen.
However, make sure not to go for too bright appliances or overdo the colours in your kitchen.
Get Colourful Accessories
A kitchen has several accessories that can be picked in various colours according to your requirements. For instance, you can get colourful pans, spatulas, kitchen clothes, kitchen brushes, kettles, cups, glasses, trays, sheets, and other such products to offer a really cool appearance to your kitchen.
Besides, arranging these accessories neatly in your kitchen can create a great impression. Go for accessories according to a colour scheme and make sure you do not go for way too many colours to make it weird for you and the viewers.
Keep Natural Plants in the Kitchen
One of the coolest and the most evergreen ways to get a splash of colours in your kitchen is to get green, potted plants.
Many people like to keep pots with green herbs that they can cut and use while cooking and this is a wonderful idea for homeowners. Other than this, you can go for plants that can do without sunlight, and keep them at specific spots in your kitchen to get a really good appearance.
Other Miscellaneous Hacks for Colourful Kitchens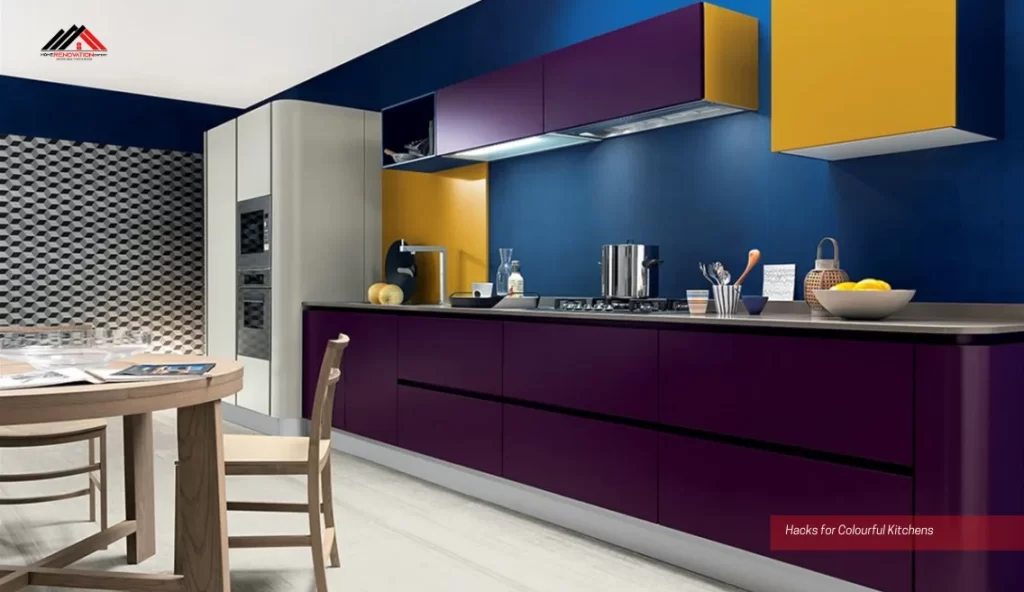 Pick colours for your kitchen using a colour wheel. This will help you create a colour scheme which would be pleasing to the eyes and would not go out of trend.
Do not be afraid while mixing and matching colours. Sometimes, this helps you get a more dramatic and interesting space.
You can use different colours at the most unexpected places. While you would think about painting the walls and the cabinets, getting colourful countertops, appliances, accessories and even floors is not a bad idea at all.
In the scheme of things, it is necessary to balance the colours so that it does not appear uninteresting. For instance, if your kitchen is light in colour, you can balance it out with dark cabinets, appliances or accessories.
Make sure you put your imagination to the test and experiment with the colours. Try out different colour schemes and pick the one that suits your kitchen the best.
These are some of the best colourful kitchen renovation layout ideas that would help you get a very interesting appearance in your kitchen. And remember that renovating a kitchen according to modern trends could be a big expense.
So keep these kitchen renovation tips and tricks handy and make sure you consult the renovation experts before putting a foot forward. What colour scheme have you chosen for your kitchen at home?