Getting an artistic bathroom is one of the dreams of homeowners. The bathroom is one of the spaces in the house that needs an expert's hand to look good, and your fine sense of creativity to operate smoothly. While making new purchases for your bathroom after a renovation job you must be very careful about the aura of the space.
And while you choose the plushest bathtub, elegant lighting, a beautiful mirror and fancy plumbing faucets, it is also essential to go for a good and functional bathroom vanity.
Vanity is one of the most underrated elements in the bathroom despite contributing to the looks and serving a lot of functions. So while you remodel your bathroom, you must choose your vanity carefully.
Here is a detailed guide on how to select the best bathroom vanity for your home.
Let's dive in to help you solve your bathroom vanity issues when you go for bathroom remodelling.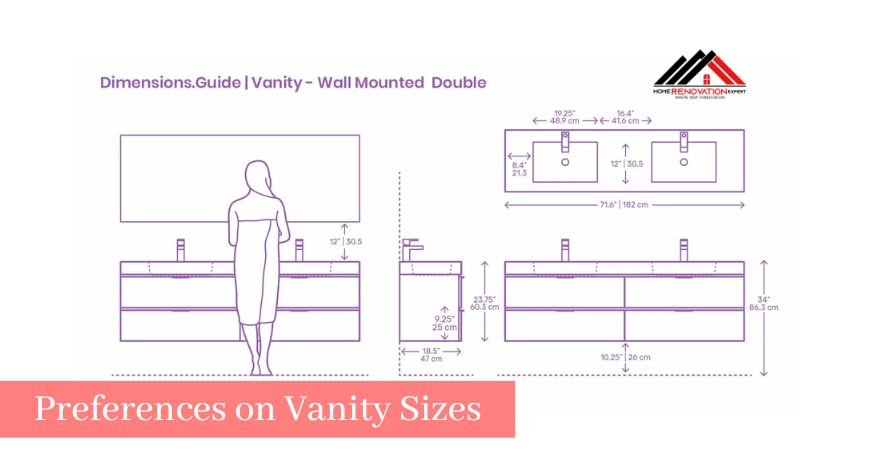 Preferences on Vanity Sizes
Admit it – no two bathroom spaces can be exactly similar. And this is why every bathroom has its own needs for a suitable vanity. And before you opt for a cool and chic vanity, it is important to know the size because it matters.
But even before you move to measure the size of the vanity, you need to measure the space in your bathroom. Here are some tips which can assist you in the process:
Check the most suitable space in your bathroom to place the vanity. While you place it, it should not meddle with the opening of bathroom doors and windows and should also not be too close to the waterworks.
Choose an area in your bathroom that is away from already installed mirrors, electrical outlets and switches. Plus, it should also not cover the existing designs of the bathroom to spoil the fun.
The bathroom vanity should not meddle with the plumbing locations. You need to pick a space which does not necessitate you to move your plumbing because this could be a costly affair.
Next, you need to choose the vanity by measuring its particular size according to the space. Measure the width, height and length of the vanity that you are choosing. Make sure it functions smoothly even when all the cabinets are in operation. Besides, it should not interfere with any element and should not block the foot space in the bathroom.
If you are about to get a vanity that does not have a top, you need to get measurements for its countertop. Besides, if you are using a filler strip, make sure you include allowances for it as well.
These are some important tips that will help you choose your bathroom vanity in the correct size. While there are readymade vanities available that you can buy from stores, you might need a personalised vanity for your bathroom.
In such a case, you can contact a vanity designer and get custom-made vanity according to the measured dimensions. This would also help you in choosing the right vanity in your desired colours, shape and size without any compromises.
Colours of Your Vanity
While the size of the bathroom vanity determines functionality, colour is an important element for visual appeal. And the vanity must look good so that it contributes to the overall allure of your bathroom.
However, how do you choose the perfect colour for your bathroom vanity? Well, most people go for rustic and classic wooden vanities that occur in different shades of brown, while others choose customised options as well.
Here are some interesting tricks which can help you choose the perfect bathroom vanity in terms of colours:
For a classic and traditional appearance in your bathroom, you can go vanity in its natural state. These wooden vanities can range from basic engineered wood to birch and pine. You can also go for the more costly materials like Asian hardwood, maple wood, oak and other woods according to your budget.
If you are looking to get a particular colour scheme in your bathroom and basic wooden colour does not sound too appealing, you can get the regular vanity painted. Yeah, it's a cool idea to get a normal wooden vanity painted in the desired colour according to the design of your bathroom.
White vanities are highly common in bathrooms and even black ones have started getting a lot of popularity. However, based on the colour scheme or the appeal of the bathroom, these vanities can be obtained in any colour you desire.
And while you keep track of all these important tips, make sure you pick the bathroom vanity in a colour that does not go out of trend after some time. Classic and timeless shades are the best ones to deliver the perfect appearance in your bathroom.
Overall Cost of Bathroom Vanity
Here's an important question.
Would you like to break the bank when choosing a perfect vanity for your bathroom? Well, bathroom remodelling can always be a huge investment. And this is why you need to be careful when choosing vanity because this could be one of the most costly affairs.
Talking about the average cost of bathroom vanity – it could vary from a few hundred bucks to a few thousand bucks, depending upon the size, material, design and customisation of the product.
Based on the design and size of the vanity, the products could be roughly classified as follows:
Single sink bathroom vanities with top
Single vanity cabinet only
Double bathroom vanities with top
Double vanity cabinets only
And as you would have already guessed, single vanity cabinets without tops are the least expensive products. The double ones with designed tops could be costly.
Besides, the cost of the vanities depends on the materials as well. You can get affordable PVC vanities and these are available in all sorts of colours. Besides, the cost of the product would vary when you go for metallic vanities, wooden vanities, stone vanities and other products which entice buyers.
A very important factor that determines the cost of the bathroom vanities is the amount of customisation it contains. If you are getting a bathroom vanity designed according to the space in your bathroom, the cost of the product will vary accordingly.
For best results and to make sure you do not go over the line, it is important to consult a bathroom renovation contractor in the process. For instance, if you are getting a bathroom renovation in Melbourne, you can get assistance from your contractor with respect to your bathroom vanity installation as well.
This will help you stay within budget when choosing the product. Also, it makes sure you do not compromise on quality.
Suitable Bathroom Vanity Materials
Last but not least, let's talk about the best materials for bathroom vanity and this is a super interesting subject. This is because while it affects the budget of your bathroom renovation, it also ensures that the space gets just the perfect appearance you desire.
Here are some of the most common materials used for bathroom vanities: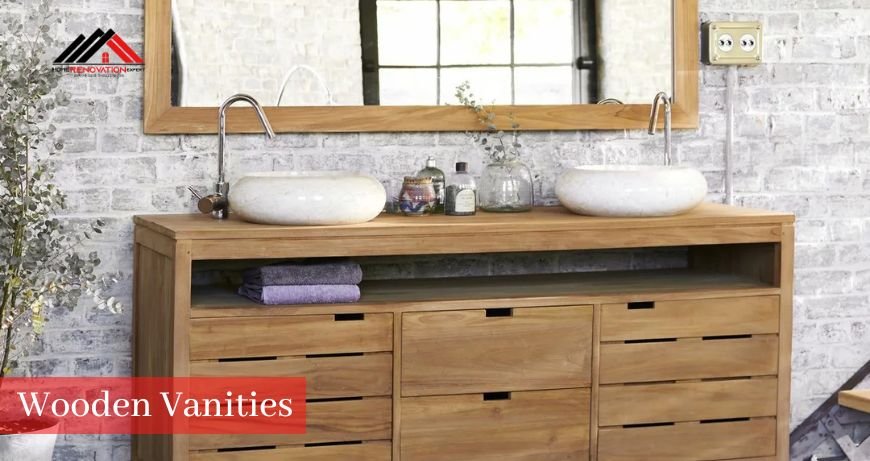 Wooden Vanities
As aforementioned, wooden bathroom vanities are highly common. And they exist in a wide variety according to the kind of wood you choose. Right from affordable, basic engineered wood to the costliest hardwoods, you can choose a wooden bathroom vanity according to your budget. These are neatly polished and sometimes painted as well to deliver an interesting view according to the space.
Wooden vanities deliver a timeless appearance and can vary in cost according to the size and material.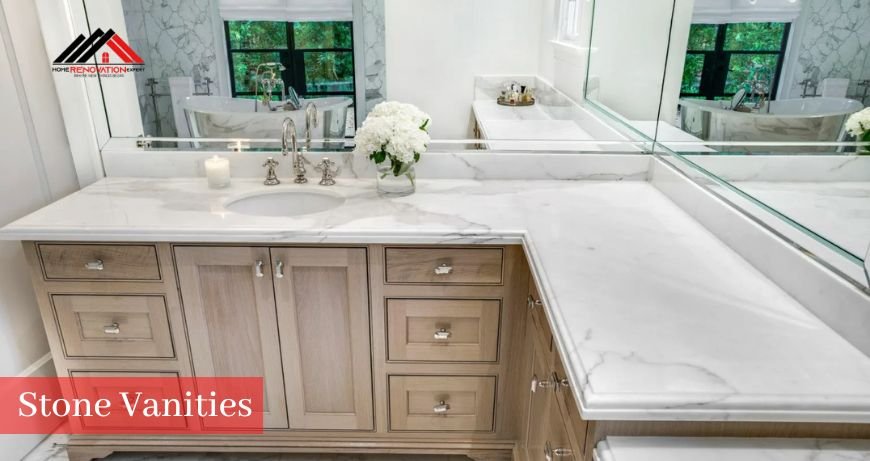 Stone Vanities
If you wish to get long-term and highly durable bathroom vanities, stone vanities are definitely one of the best options. You can choose from marble and granite vanities, and people also go for customised limestone and sandstone vanities.
While they are extremely beautiful in their appearance, they also gel well with the aesthetics of the surroundings. However, stone vanities are some of the costliest ones available.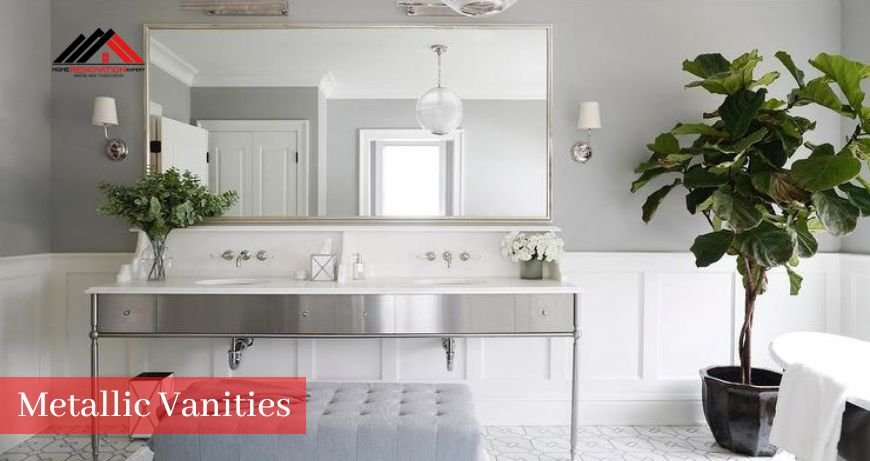 Metallic Vanities
Metallic vanities, such as those made up of iron or iron alloys (steel) are also a good option for bathrooms. These are not very stylish but can be extremely durable.
PVC Vanities
If you wish to choose the most affordable bathroom vanities, you can go for plastic or PVC ones. These are resistant to water and pretty durable as well. Plus, they are easy on the pockets. However, they do not last very long and you need to handle them with care.
These are some of the most common materials which make up bathroom vanities. You can pick any of these according to your needs.
So while you remodel your bathroom, do not forget to get all the knowledge about bathroom vanities. And pick the best one according to your need, bathroom aesthetics and budget. And if you wish to get expert assistance in terms of a bathroom renovation in Melbourne, you can always contact the experts at HRE Built for assistance.
FAQs
1. How do you choose a bathroom vanity size?
Bathroom vanities occur in some standard sizes, varying in terms of depth, width and height. You can choose a bathroom vanity by measuring the space in your bathroom and going for the size that suits the space. It should not meddle with any other element.
2. What colour bathroom vanity is the most popular?
If you have designed your bathroom using a colour scheme, you can pick your vanity in a similar colour. However, the most popular vanity colour is natural wooden brown in different shades. Also, black and white vanities work really well.
3. What is the average cost of a bathroom vanity?
The cost of bathroom vanities varies according to the size and the material of the product. If you are opting for wooden ones, they would have slightly less cost than stone vanities of the same size. You can get an idea by consulting an expert.
4. What is the best material for bathroom vanities?
Bathroom vanities are available in hordes of different materials. However, while the wooden ones are highly popular, people also go for durable stone vanities and there are some really cool wooden vanities as well.