Are you planning to renovate your small bathroom? Get ready!
Even small bathroom repairs and renovations can cost you a huge sum of money if you do not remain careful and informed.
While the cost of bathroom renovation varies from place to place, bathroom renovation in Melbourne may cost you something between $8000 and $35,000 depending on the size of the space. Besides, factors such as labour costs, material costs and fitting costs too affect your bathroom renovation budget.
In 2022, the average cost of bathroom renovation in Australia was $21,000 and even a small bathroom renovation in Melbourne can cost you from $8000 to $15,000. (Source)
So you see, it's a big investment and you would not like to spend this huge sum of money every other month. To help you out, we have brought you some interesting bathroom renovation ideas on a budget.
Here are some tips and tricks to get luxury bathroom designs at a low cost, even when your bathroom is small:
Budget Bathroom Renovation Tips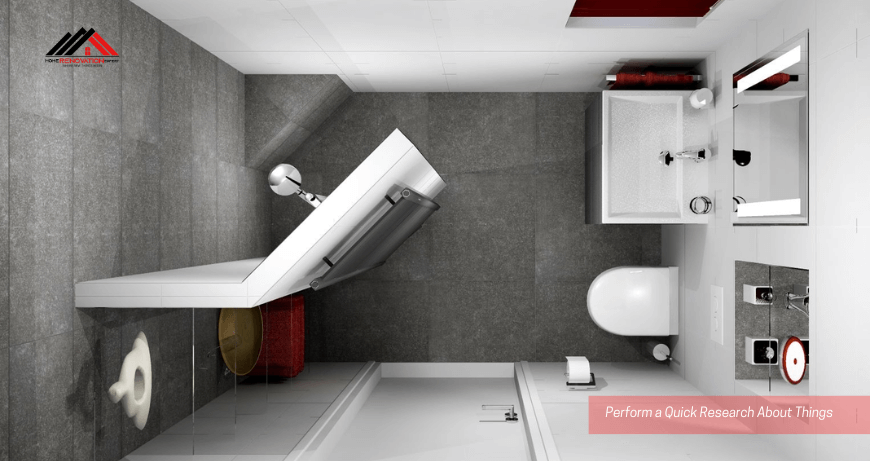 Perform a Quick Research About Things
A little research on the most important things goes a long way in helping you save your bathroom renovation cost. First of all, look for designs that would look good in your small bathroom and find out about the cost of the materials, labour and fixing etc.
Based on this you can make plans to carry things forward and this will help you get the best designs and materials according to the plans you made initially.
Set a Budget and Stick to It
It's important to stick to your plans and estimates when you are getting small bathroom renovations within a strict budget. You need to make a budget for materials and labour costs and stick strictly to it.
The initial research you did in the past would help you create a suitable bathroom renovation budget and you can follow the plans for the best outcomes.
Go for DIY Bathroom Renovation
If you can make an effort to carry out some tasks yourself, you can save a lot of your money during the bathroom renovation job. For instance, buying all the required materials yourself and keeping things in place for renovation can save a lot of extra costs.
Plus, if you can paint your bathroom walls all yourself or fix the carpentry or the lighting in your bathroom, you can save quite some money on this.
However, make sure you have experience in the jobs you undertake. In case you pick tasks that you are not familiar with, things can easily backfire.
Enhance the View of the Space
Although your small bathroom cannot be expanded physically, you can follow some tricks to give it an enhanced appearance. For instance, you can get light colours on the walls of your bathroom. Light colours make even a small space look bigger.
Besides, hanging mirrors on the bathroom wall is also one of the easiest tricks to get a better and enhanced view in your small bathroom. Furthermore, it's important to keep your bathroom decluttered and have enough moving space around. A bathroom that is completely filled with unwanted products or is messy will offer the impression of being small.
Step Out to Shop for Required Materials
Bathroom renovation needs a lot of different kinds of materials and you should know that these materials and products are available in many different varieties, qualities, and costs. So, which one of these products is suitable for your small bathroom?
Well, while it is important to stick to your material budget, you cannot compromise the quality of the products. This is why you need to step out and shop for the required products yourself.
You can get quotes from a number of shops for the materials of the same quality and brand, and pick the ones that you find the most affordable. This way, you might get discounts and get all your required materials well within the budget you set initially.
Keep Plumbing & Lighting in Place
It takes a lot of money (both labour cost and material costs) if you wish to move your plumbing and lighting away from their original place.
Therefore, if you wish to renovate your small bathroom on a small budget, make sure you do not move the place of the original plumbing and lighting fixtures. All you can do is change the plumbing and lighting fixtures with new products to get a better impression.
Upgrade on What You Have
If you are really tight in terms of your budget and cannot go for any major overhauls, you can still upgrade your bathroom for a better appearance. You can upgrade on what you have already and get a new bathroom at a really low cost.
For instance, you can just paint the walls of your bathroom to get a new look or change the wallpaper of your bathroom for a fancier view. Besides, you can change the plumbing faucets, replace the showerhead, get new and fancy lighting, hang art pieces on the walls, and change the knobs of your bathroom's doors and windows to get a completely different appearance.
Go Greener and More Sustainable
Going green is one of the latest bathroom renovation trends and you need to add this to your bathroom remodelling checklist. And to go greener, you need to go for power-efficient and water-saving upgrades.
For instance, smart lights such as LEDs help you save power, and showerheads, toilets and sinks with low-flow technology can assist you in saving water. 
Consult an Expert
If you need to cut down your bathroom renovation costs and cannot make plans yourself, you can consult an expert who has experience in small bathroom renovation at low costs.
For instance, if you need the best bathroom renovation in Melbourne at the lowest costs, you can contact Home Renovation Expert and get quick assistance.
And apart from saving your cost and effort, this will save your time as well.
So even when your bathroom is small, it would not take small investments to renovate it. However, if you follow the tips above and work on a plan, you can definitely save money in the short and long term. Ready to get a new bathroom soon?